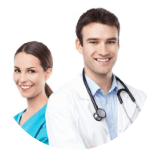 Designed for those busy professionals.
G.Ps, specialists and Naturopaths love this path. You want access to our product range for your customers, you don't want to buy stock, you want to simply hand over a name and phone number to our staff, send an email or text, or discuss live with us alongside your patient. We listen, care like you, recommend, despatch and manage the entire payment and after sales process on your behalf either with your staff or with the customer directly.
We provide our Professionals with access to a custom portal. There you will read the latest research, case studies, clinical trials and even signal your wish to be involved in future studies.
You can also monitor the medical device results from your authorised patients. You will have direct access to communications with our senior people with fast responses.
You can choose your preferred communication methods and times. We're here to support you.