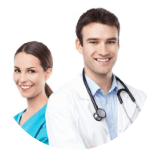 Designed for those busy professionals.
G.Ps, specialists and Naturopaths love this path. You want access to our product range for your customers, you don't want to buy stock, you want to simply hand over a name and phone number to our staff, send an email or text, or discuss live with us alongside your patient. We listen, care like you, recommend, despatch and manage the entire payment and after sales process on your behalf either with your staff or with the customer directly.
You receive:
A disclosed referral fee for the introduction or
A disclosed fee paid to the charity of your choice on your behalf or
We provide your customer a bonus that is not available to the general public and unique due to your involvement.
The choice is yours. The application process is smooth and easy but only available to professionals. Should the customer order again down the track you are rewarded as per your choice.